We actively support numerous regional and global programs through our many connections.
Phone | 207-829-3766
Email | info@tuttleroadchurch.com
Our roots in the community are long and our commitment to it's well-being is deep. The original church building dates from 1882. A new multi-purpose sanctuary and kitchen were completed in 1993. In 2001 the original building was connected to the new structure and renovated to create office and meeting spaces. Our facility now enables us to feed a crowd, host a concert, run clinics and offer space to various community groups like AA, American Red Cross and The Compassionate Friends.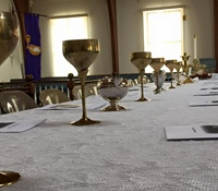 AA
Habitat for Humanity
Portland Pride
Salem (ME) Economic Ministry
Guatemala
iZosh
Maine Needs
Greater Portland Family Promise
Civic Groups
ANNUAL GUATEMALIA MISSION TRIP
Each year TRCC Pastor Linda Brewster and 13-20 team members fly to Guatemala to provide much needed medical care and vitamins to the people there. No experience is necessary. If you are interested in reserving a spot in the next group (November 2023), Please email Pastor Linda at lindabrewster2210@gmail.com
Learn more at www.guatemalagrace.org.
Loving & Knowing God, Loving People, Serving the World.